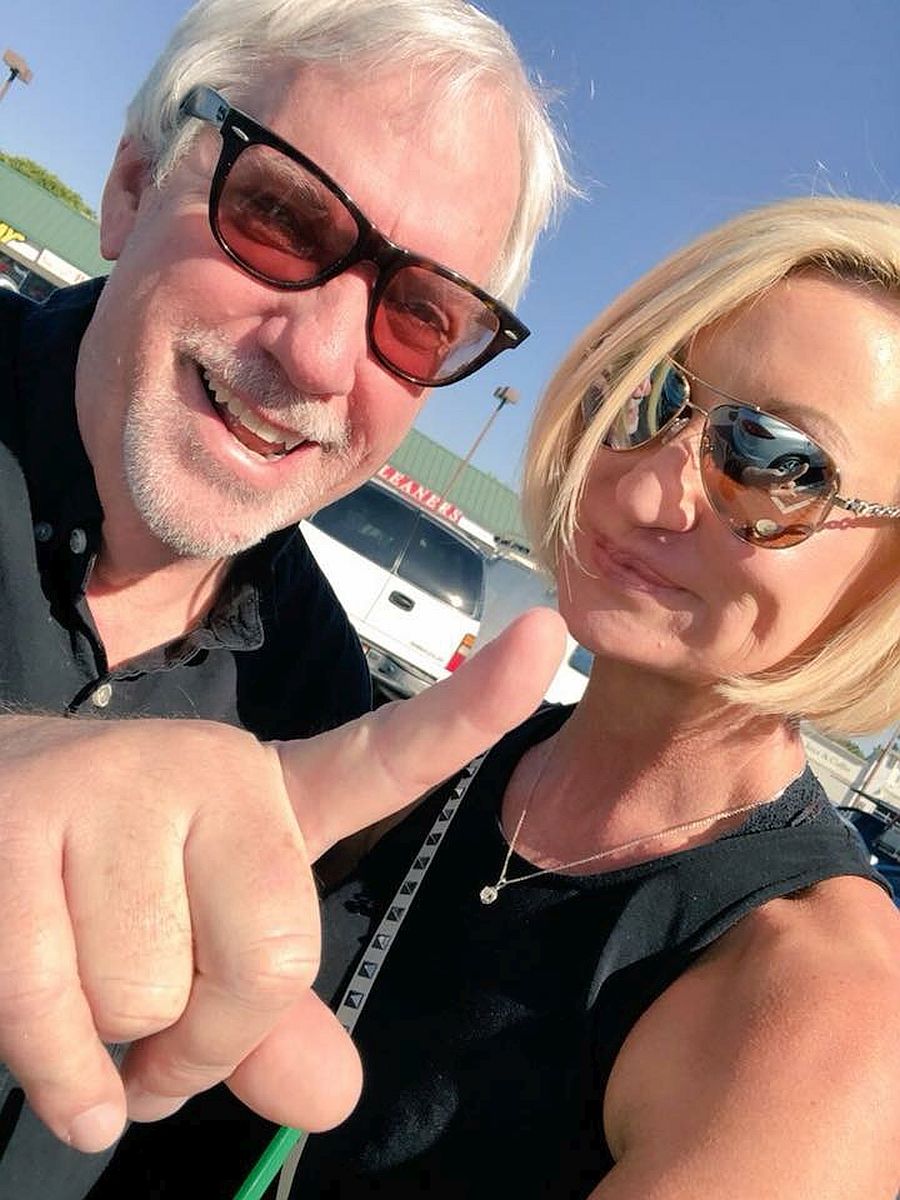 Another one of those mind bending sessions.  Having spent the past five years chatting with Jennifer on a weekly basis, only starting to film about a year ago, we have 65 podcasts of us chatting with people on the flipside.
We have three books of interviews "Backstage Pass to the Flipside" where we discuss how we met, the process we use, and the many verifications that have occurred on camera in her office, in restaurants.  In this case, one can search through these podcasts to hear other verificiations.
Each week we "enter our classroom" where people are standing by waiting to chat with us. The books were named because Tom Petty described the process of "getting onto the clipboard of Luana the way someone might try to get a VIP pass to backstage at a concert."  My friend of 20 years, who passed in 1996, starting showing up to me and to family members over the years.
Then when I met Jennifer Luana started showing up weekly - that is helping us to access people on the flipside, and vice versa. On the flipside they describe her participation as "showing how it's done."  In the six years of doing this, I've often "asked for people to come forward" - and most of the time Jennifer tells me who it is that I've asked for - said their name aloud prior to a session - in one to three tries.  
Sometimes it takes longer - because again, they're putting images in her head that lead her to say something. So for example, if someone shows up named "Fred" - she might see her husband Fred. And then from there I ask questions about the identify of whomever shows up.
This was one of those examples.  She said "somewhere is here that wants to speak to us, but neither of us would know him."  So it took me the time it took me to figure out who that might be.
Carl Laemmle was a prolific film producer in the 1920s and 30's. He dies at the age of 72 in 1939, making such hit films as "The Hunchback of Notre Dame," "Phantom of the Opera" "Dracula" and "Frankenstein."  I was not aware of the films he made - but doing this research after the podcast, I realize last night while watching "Singing in the Rain" with their parody of the first sound films, I noted to my wife that if one watches "Dracula" (1931) carefully, the actors move over to where a microphone is hidden in a plant or a lamp or somewhere in the room to pick up the sound.  In the film "Singing in the Rain" they had a character with a German accent playing the role of the film director beside himself with fury about planting the microphones on set - and I realize as I write this sentence it was likely a parody of Germans like Carl who emigrated in the 1880's.
Everything I report is accurate - in that it was Carl who suggested that Amelia Earhart star in a film about herself, and how she and Mary Pickford wrote a screenplay together, excerpted in George Putnam's posthumous biography of his missing wife.
Fans of "Hacking the Afterlife" know that we interviewed Amelia extensively and that I've spent 30 years gathering eyewitness reports that claim she was captured, and died in Saipan. (EarhartOnSaipan.com is a webpage filled with details of that sage).  But in this instance, it was Amelia who brought Carl in - and he wanted to "give it a shot" and be interviewed by us.
After my incredulousness wore off (not about the fact he was there, but why he showed up) I asked him to describe what he's up to, and his reply is unlike any we've heard before.  We have heard people can "learn to cook" but his specificity of Indian ovens (ie. tandoor ovens) for specific dishes is accurate but not something Jennifer is aware of.  His description of various salts (Moroccan!) is also accurate, having traveled around the world I know there's more than Morton Salt to be tasted.  That was quite specific.
But then Prince showed up - and as fans of our work know, he's been showing up since he crossed over, interviews are in "Hacking the Afterlife" and a number of times in "Backstage Pass to the Flipside." I'm aware that the vast majority of listeners would turn off the podcast around this moment, but they'd miss him bringing Ludwig and Vincent forward to talk about art and how those frequencies affect their continued work.
We tend to think in human centric terms (how could we not?) about time, about fame, about all of those things that don't mean much on the flipside. The idea that Carl could come forward 80 some years after his passing, and carry on a conversation as if he was aware of everything that's been said since is mind bending.  The idea that Ludwig might be considered 250 years old - but what she had to say about his digestive issues is accurate - and at one point mentions his "blindness" ... because she's not aware that he was going to come to class today, or not really up on his story.
I literally did finish reading a biography about him this morning, and am in awe of his talent and output as an artist - but I wanted to dig into something that bothered me, his behavior towards his sister and law and her son is considered beyond the pale - while working on Missa Solemnis and the 7th, 8th and 9th symphonies.  Like the sand in an oyster that turns into great pearls, it was the sacrifice his sister and law Johanna and nephew Frank put up with so that he could create the kind of art that he did.
Vincent mentions a "savage animal" attacking his ear - that could be a metaphor for the "man in the mirror," "some bar fight gone wrong," or literally an animal attacking him - I don't know. It doesn't really matter, because as he put it "I won. I'm the most valued artist of us all."  Funny way to put it - but accurate.
This podcast may offend a few, may startle a few, but Jennifer and I show up unprepared, except for the body of work that's preceded when I turn on the camera and record our podcast.
Enjoy.